Should you fertilise your lawn in winter
There are benefits to fertilising your lawn during winter, however it isn't the same fertiliser you would use during the months of the year.
Once soil temperatures drop below 14 degrees your grass will start to slow down and go semi-dormant for the cool months ahead. This is a protection method warm-season grasses use to protect themselves from the harsh conditions of winter. Because most grasses in Australia are warm-season varieties, they never really go fully dormant and will continue to grow but at a much slower rate. It's for this reason, they still have the capacity to take up some nutrients which will be aid in keeping them strong through winter.
Most lawn fertilisers have three key nutrients that are important to maintaining the health of your lawn, Nitrogen, Phosphorus and Potassium. Nitrogen is the largest component and is the one that promotes strong leaf growth. In the winter months though, leaf growth is minimal and no matter how much Nitrogen you throw at your lawn, it won't react and establish any quicker than the temperatures allow.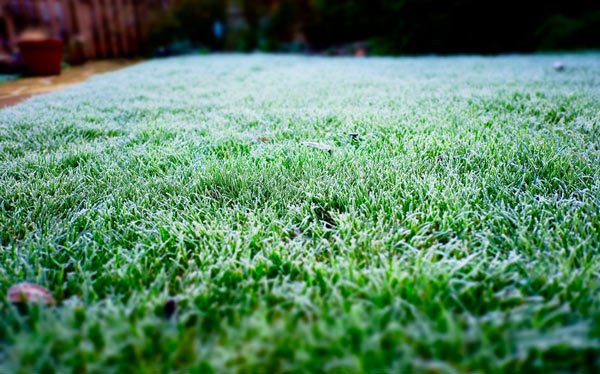 What can you use?
If you are going to fertilise your lawn in winter, you need to look at what it is your lawn needs to stay healthy and strong when it is cold.
The key ingredient you will find in increased amounts in most winter fertilisers is Iron. Iron helps to strengthen your grass and improve leaf colour. Provided you have fertilised in autumn and have your lawn well prepared for winter, you will be looking at providing an additional treatment around July. You can apply Iron Chelate which will help to get better iron uptake for better results without Nitrogen promoting unnecessary growth.
It's important you fertilise your lawn regularly throughout the year, with Autumn being the most important time. A strong, healthy lawn leading into winter is the key to having a healthy lawn on the other side.
For more information on lawn care visit our Lawn Care page.
Blog
Specials and offers
Join our mailing list for great specials and top turf tips
The new lawn looks great! Thank you very much the boys did a top job.

- Matt, Wollongong

The boys who laid the lawn were AWESOME . .. very polite , worked hard and more than helpful with instructions for care.

- Bronwyn, Vincentia

Just like to say a big thanks to Marcus Josh and Jed, all very professional, courteous with nothing being a problem, a job well done and another happy customer,will not hesitate to recommend you guys.

- Kevin and Florence Handford, Port Kembla

Hi Marcus & Jed, thanks again for your work, we really love our lawn!

- Gary, Berry

Thanks Marcus! I have to say you and your team are one of the most professional trades I have come across and the lawn looks great! 

- Belinda, Greenhills Beach

Thank you Marcus & Joe for such excellent customer service. Marcus gave us good advice on what turf to use and had no problems coming to offer his advice a second time to help us keep to our budget. Joe and his team were polite, friendly and efficient and did a terrific job on our very large backyard. It looks amazing. We've mowed it twice now and it looks like it has been there forever.

- Berry

Nathan, Josh and Brendon were a delight to deal with and did a fantastic job.

- Patrick, Illawong

Thanks very much for the photos!  The area is looking excellent - a huge improvement on the original !!  I appreciate all your team's efforts and hopefully we'll be able to successfully maintain the turf until it is well established!

- Lile, Keiraville

Thank you for your help in the installation of our new turf – I am really happy with it and amazed at what a difference it has made to the backyard. Your company made everything so very easy, I will certainly be recommending you. If ever I need turf laid again Turfco will be the first company I turn to.

- Margarethe, Shellharbour

On behalf of our club I wish to pass onto yourself and Turfco are sincere thanks for your generosity with the recent supply of turf to Ray Robinson oval. This has assisted our club immensely with the upkeep and preseason preparation to our ground.  Again we say thanks. We appreciate your support. 

- Fernhill Soccer Club

Thank you for a quick and professional job at our school.

- Mark, Warilla High School

Hi Marcus , just to let you know that the boys and yourself are a credit to your company. Their work ethics are second to none. Thank you.

- Mark, Lake Conjola

Jed and his buddy are wonderful. You guys are a real credit to Turfco.

- Robyn, Greenwell Point

Our lawn is looking great, I'm really happy with it; I never thought I would be a lawn person but turns out I am!

- Mick, West Wollongong

Both Marcus & Joe are very professional and know exactly what they are doing; their friendly personalities and workmanship makes them a credit to your company.

- James, South Coast NSW

Fantastic , I bought it online Wednesday and it was delivered to my door on Friday, doesn't get any better than that. Thanks

- Warwick, Goulburn

Just a quick message to say a big thank you to the driver who delivered the Turf on Saturday. He placed the turf in positions that made it easier for our guys to lay the turf. Thanks again.

- Ann, Surf Beach

Thank you for the great job your guy did on Wednesday. I recommend you guys to everyone. Thanks heaps!

- Mick, Lake Heights

Joe, Scott and the team did a great job yesterday and despite having all four seasons during the afternoon, we smashed the turf laying records and got the job done.

- Jeff, Kangaroo Valley

Product arrived with good grass growth and a nice root mass. Please pass on my thanks to your team.

- John, Jim's Mowing, Kiama

I just want to thank yourself and Marcus for everything and to the guys that did the job, they were fantastic and did a great job.

- Melinda, Renwick

I would just like to thank you and particularly Jed and Jamie who worked their butts off today, and have done a fantastic job turfing our front lawn.   Your whole operation is totally professional and  we could not be more pleased with the end result.   Thanks again.

- Tony & Kay, Sutherland

Just wanted to thank you for the great product excellent service and the most professional experience we have had so far with our renovation. Josh and Joe were fantastic. Please feel free to use us as a referee to other potential clients, they won't regret it.

- Victoria & Gary, Illawarra

We were very very happy with the service we received, everyone we were involved with were courteous, polite and professional. Would definitely use your company again in the future.

- Karen, Mt Pleasant

Thank you so much for your professionalism and attention to detail with the supply and installation of our Sir Walter at our newly built house. It has totally transformed the look of our home and has provided the finishing touch it so desperately needed.

- Tim McGoldrick, South Nowra

These guys were awesome! Nothing was too much to ask, Thanks guys

- Susan, Tapitallee

Just a quick note to thank your guy for a great install - we had the perfect weather for laying (rained all day !!!) Looking a treat and I'll be in touch for more just as soon as this lot is established.

- Michael, Tallong

Turfco did an amazing job at my place and now I want to repeat it!

- Reece, Hyams Beach